serenity blue + rose quartz + magnolias
April 24, 2017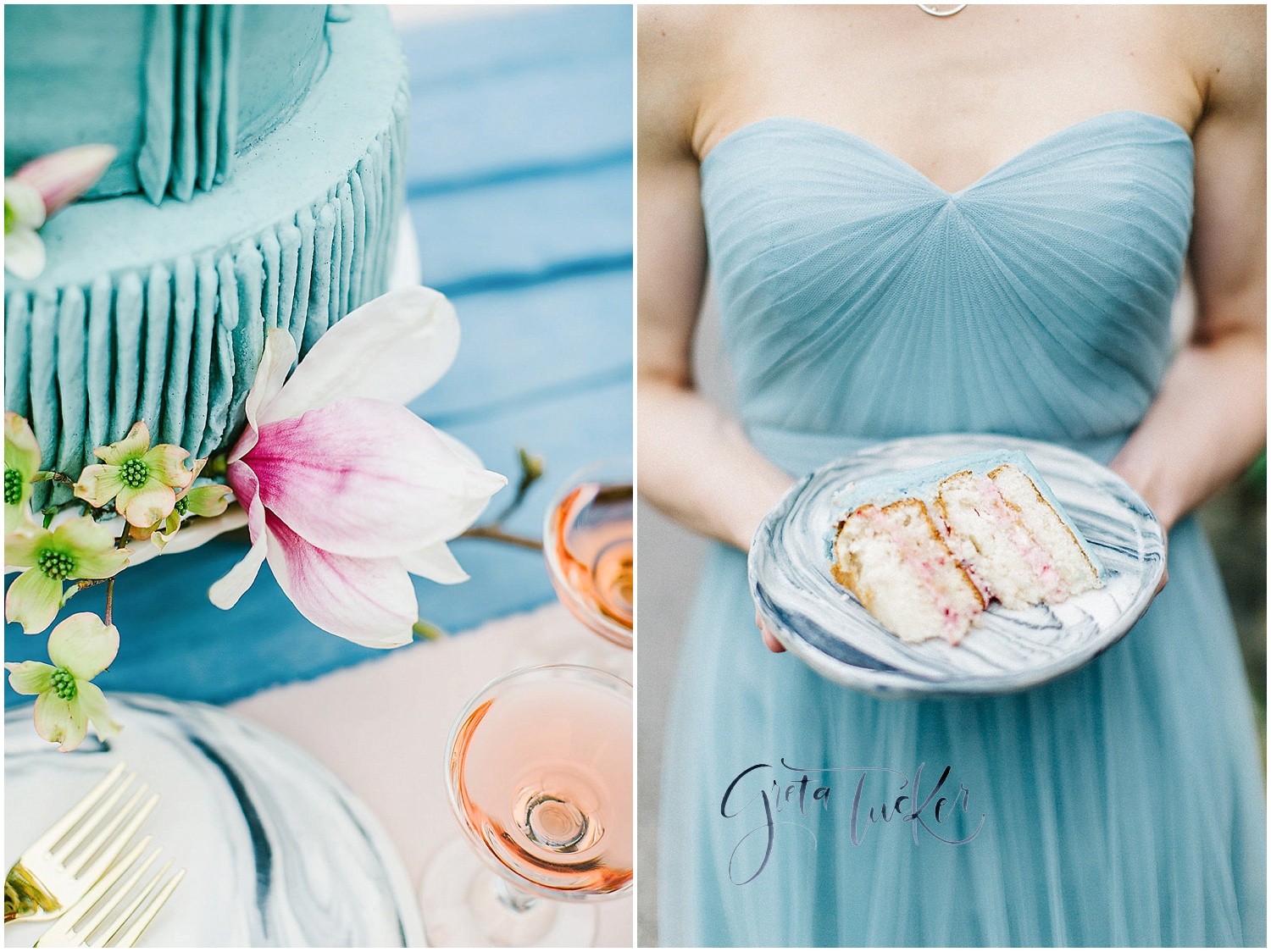 Photography & Concept: Greta Tucker Photographer // Design, Props, & Coordination: Maine Seasons Events & Rentals // Floral Design: Emily Carter Floral Design // Furniture & Flatware: One Stop Event Rentals // Custom Plates: Campfire Studio // Custom Stationery: Sara Fitz Studio // Hair & Makeup: Ariel Johnson // Model: Emily Biedrzycki of Body After // Cake: Cake Elizabeth // Jewelry: Amalia Moon// Dress: Jenny Yoo Collection // Venue: Harraseeket Inn in Freeport, Maine.
This shoot showcases the bride's time alone before the wedding. She is ready! Many people are bustling about with preparations, or getting themselves ready to celebrate. The moments of solitude will be few, but the overwhelming joy of this day fills her with a sense of contentment and gratefulness for those who will share in this momentous occasion.
This moment is hers and hers alone.  As she walks through the garden, she is greeted by the sweet smell of magnolia blossoms, and her excitement builds. In the distance, a table setting calls to her with its long flowing cerulean train. Her step quickens just a little as the scene unfolding before her is breathtaking.
Amid a cascading bouquet of pinks and greens, the captivating table comes alive with charm and the glimmering of the gold toned tableware and chargers pair elegantly with the softness of blues to create a dreamy, romantic ambiance.
Brilliant watercolor drawings adorn invitations foreshadowing the theme of this day. The exquisite use of color and illustrations on pristine white paper create an aura of serenity. The artist's use of translucency and imagery is admirable.
The delicately designed pink solitaire ring by its very nature evokes feelings of love and quiet reflection. Like a budding flower, it reminds us to take time to savor its grace, be present in this moment, and to revel in the inherent joy all around!